Are you analytical and communicative? Can you put yourself in the customer's shoes and are you passionate about authentic travel?
Then you are the marketer we are looking for!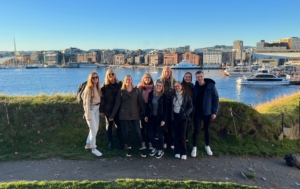 Do you want to play a crucial role as a Sales & Marketing Analyst within Nordic and bridge the gap between Sales, Product and Marketing? Our business is all about understanding our customers and turning those insights into tangible actions based on data.
Your tasks:
Data analysis and reporting
-You analyze the entire customer journey using dashboards you set up yourself (Power BI, Looker Studio, ZOHO Analytics, Google Analytics 4, …)
You monitor the customer experience of our Nordic brands
You support the sales teams in entering new markets through market research and competitive analysis
You analyze the partnerships we establish
You support the marketing team in setting up reports and answer questions from the team around reporting and data
You manage the Tradetracker account
You create personas and visually map the customer journey
Marketing/sales/product collaboration
You identify pain points within Sales, Marketing and Product through data analysis
You will talk to the sales team to find causes and solutions for these pain points and formulate concrete action points.
You discuss these analyses and solutions with the marketing team and recommend optimizations to their campaigns
You regularly brief the Head Of Marketing with your findings, progress and concrete action points.
You support the Head Of Marketing in developing marketing action plans with your data input
You also share valuable data analysis with the product team
Place in the organization.
You are part of the marketing team reporting to the Head of Marketing.
You have a lot of contact with the sales teams, product team and marketing team. Your job is to bring these three teams closer together and ensure synergy.
You combine flexible home and office work. In doing so, you choose your headquarters of choice (Melle, Londerzeel, Nieuwegein or Brussels), but are flexible to travel to these offices on a regular basis for consultations.
Key Skills:
You have strong analytical skills. You can easily interpret reports, identify pain points and translate them into concrete action points.
You are collaborative and communicative. You speak clearly, to the point and persuasively. You can listen well, identify needs or resistance and translate them into constructive solutions. Problem-solving thinking is in your DNA.
You have a customer-oriented mindset and can empathize with a customer's needs.
You have a driven hands-on mentality and strong perseverance. You do not shy away from challenging situations or projects. You get excited by our solid growth objectives.
Relevant experience of minimum 3 years, more is certainly welcome.
You speak professional Dutch and English.
You have knowledge of data tools (e.g. Excel, Google Looker Studio or Power BI).
You have master level thinking, preferably in an analytical discipline or to be demonstrated by experience
What we offer:
A varied position in a values-driven and dynamic company.
An open work environment with attention to training, autonomy, flexibility and well-being.
An enthusiastic team with passionate colleagues.
Flexible working hours and locations (work from home opportunities).
Open-ended contract.
Attractive remuneration package with perks and the opportunity to discover our destinations.
Extensive training and growth opportunities within the organization
Starting date in consultation. We are looking forward to your application.